Jan Leitschuh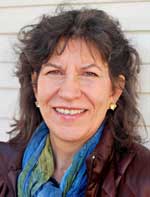 Jan Leitschuh is a freelance writer, award-winning journalist, former horse trainer and long distance hiker. In March of 2003, bolstered by the experiences chronicled in The Ordinary Adventurer she set off on a far longer walk - a six-month journey up the entire Appalachian Trail, from Georgia to Maine, summitting Katahdin on September 18, 2003.
Based on journals posted online in near-real time, The Ordinary Adventurer is a true account of their 2002 End-to-End hike of Vermont's 270-mile Long Trail.
When she is not off adventuring, she lives in a cottage on the edge of the woods in Southern Pines, North Carolina.