PJ Piccirillo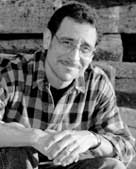 About the author
PJ Piccirillo is an award winning author whose work has been published by newspapers, magazines, and syndicates. His short fiction has appeared in numerous journals, most recently The Laurel Review and Ellipsis. Many of his stories are inspired by the people of the red brick industrial burgs and timberlands of Pennsylvania's Allegheny Plateau, where his ancestors settled to work farms, tanneries, mines and rail sections.
PJ has won several literary prizes, including the Appalachian Writers Association Award for Short Fiction.
As an artist-in-residence (creative writing) for the Pennsylvania Council on the Arts, PJ conducts writing programs in schools, correctional facilities and community centers across Pennsylvania.
PJ is a commonwealth speaker for the Pennsylvania Humanities Council. His program, Missing Pages: the Neglected Literature of the Alleghenies, makes a case for a literary canon of Pennsylvania's Appalachian literature. He also leads book discussions for the council throughout Pennsylvania.
PJ teaches creative writing at arts agencies, and conducts seminars on craft at writers conferences. He holds an M.F.A. in creative writing from the University of Southern Maine.
PJ returned to writing fiction after ten years in marketing communications.